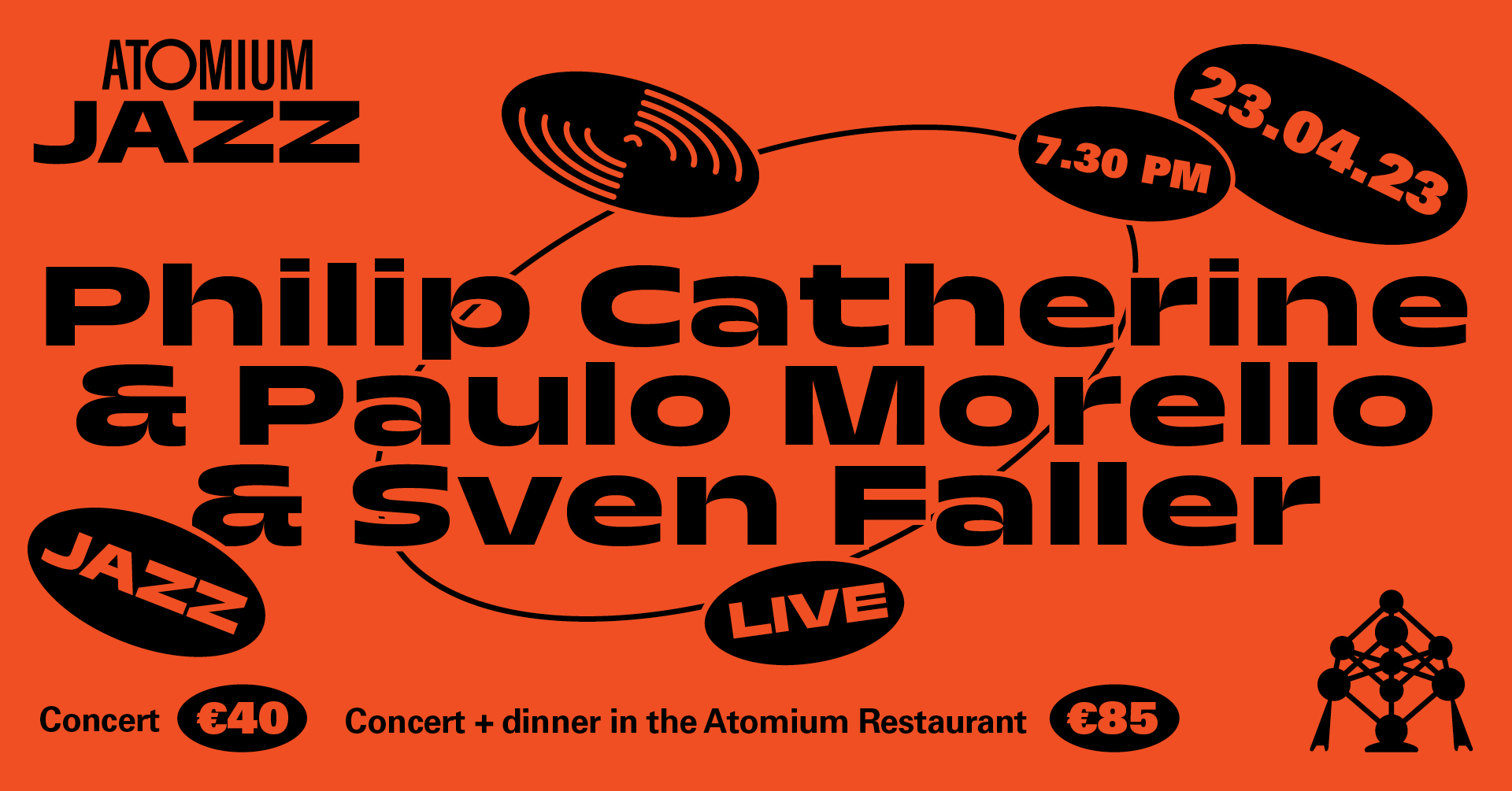 Philip Catherine & Paulo Morello & Sven Faller
Jazz concert at the Atomium
Curated by Thomas Champagne
23/04/2023
Philip Catherine – Guitar
Paulo Morello – Guitar
Sven Faller – Double bass
The Atomium invites you to discover its "Atomium Jazz" concerts in the magnificent Ilya Prigogine room, a lateral sphere with a breathtaking view of Brussels!


In April, the Atomium has the honor of offering a concert by the legendary guitarist Philip Catherine, who just turned 80 at the end of October 2022. Since the 1960s, Philip Catherine has been an important figure on the European jazz scene. His collaborations with such great artists as Charles Mingus, Chet Baker, Stéphane Grappelli, Dexter Gordon, Larry Coryell, Tom Harrell, NHOP, to name a few, his unique style and sound, his musical commitment, have been important and of undeniable influence on contemporary
European jazz.

Philip Catherine presents his repertoire from his album "Pourquoi" (translation: Why), a composition that gives the title to this second meeting of the trio with guitarist Paul Morello and bassist Sven Faller.

Without any question mark or doubt, that defines the music of these three high-flying musicians. With a natural flow, stylistically assured in all genres, sometimes exuberantly lively and then contemplative and condensed like a good film score. Since their first album "Manoir de mes rêves" (Enja, 2019) and about fifty concerts, Catherine, Morello and Faller have matured their art of the trio and their repertoire, just like a good wine. What started in 2010 with a jam between the two guitarists backstage at the "International Jazz Week Burghausen" counts, thirteen years later and without any question marks, as one of the best trios that European jazz has to offer.
End the concert with a drink, a bar will be available in the panoramic sphere with a breathtaking view over Brussels!


Want to stay updated with our activities, subscribe to our newsletter


Practical information
Location
Atomiumplein 1 - 1020 Brussels, Belgium
Date of the event
23.04.2023
Time
19.00 : doors open
19.30 - 20.45: Concert
21.00: diner or drinks in the panoramic sphere (optional)


Entrance fees
Concert : 40 €
Concert and dinner at Atomium Restaurant : 85€ (3 courses + glass of champagne included)

Also see