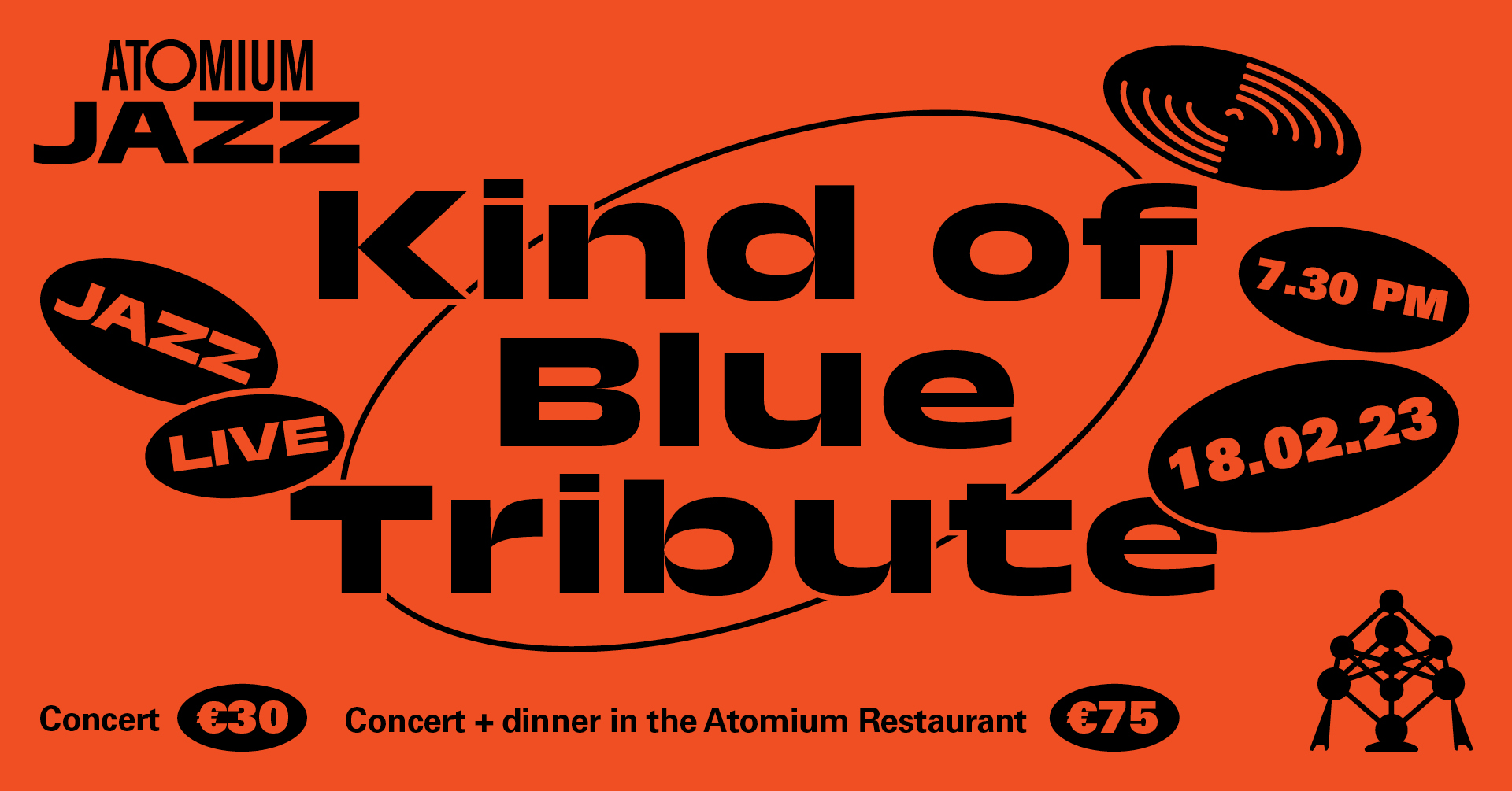 Kind of Blue Tribute
Jazz concert at the Atomium
Curated by Thomas Champagne
12/11/2022
Kind of Blue Tribute
Pierre Malempré – Trumpet
Thomas Champagne – Alto Sax
Michel Mainil – Tenor Sax
Maxime Moyaerts - Piano
Hendrik Vanattenhoven - Double bass
Mimi Verderame – Drums

The Atomium invites you to discover its "Atomium Jazz" concerts in the magnificent Ilya Prigogine room, a lateral sphere with a breathtaking view of Brussels!


In 2023, the concert series will be introduced by the group "Kind of Blue Tribute": 6 musicians paying tribute to the legendary album of the same name by jazz icon Miles Davis.
On August 17, 1959, trumpeter Miles Davis released the album "Kind of Blue" through Columbia Records. A recording that to this day is still considered one of the most important albums in Miles Davis' work. Thus, "Kind of Blue" is the best-selling jazz album of all time, the first gold record in jazz, and is recognized as one of the most influential albums in the history of jazz.
With foresight, Miles' album was released at the perfect time. Where on one side, there was a generation of musicians who were not done with tradition, on the other, avant-garde creators were trying, with varying degrees of success, to open new doors.
Miles Davis, surrounded by his peers, would again distinguish himself by taking a new path, that of modal jazz. More than forty years after the two recording sessions, this record is by far considered a turning point in the history of jazz. It was a departure from the dense compositions of the time, a return to melody.
The proposal to (re)present "Kind of Blue" arose from the meeting and the will of 6 musicians to present, in their own way, the spirit of this legendary album. Here no arrogance but focus on the pleasure of playing together a music that has lost nothing of its freshness and creativity.
End the concert with a drink, a bar will be available in the panoramic sphere with a breathtaking view over Brussels!


Want to stay updated with our activities, subscribe to our newsletter


Practical information
Location
Atomiumplein 1 - 1020 Brussels, Belgium
Date of the event
18.02.2023
Time
19.00 : doors open
19.30 - 20.45: Concert
21.00: diner or drinks in the panoramic sphere (optional)


Entrance fees
Concert : 30 €
Concert and dinner at Atomium Restaurant : 75€ (3 courses + glass of champagne included)

Also see